When:
2023-10-08T00:00:00-04:00
2023-10-09T00:00:00-04:00
Where:
McDaniel Farm Park
3251 McDaniel Rd
Duluth
GA 30096

Contact:
H.O.P.E, Inc.
(404)313-7710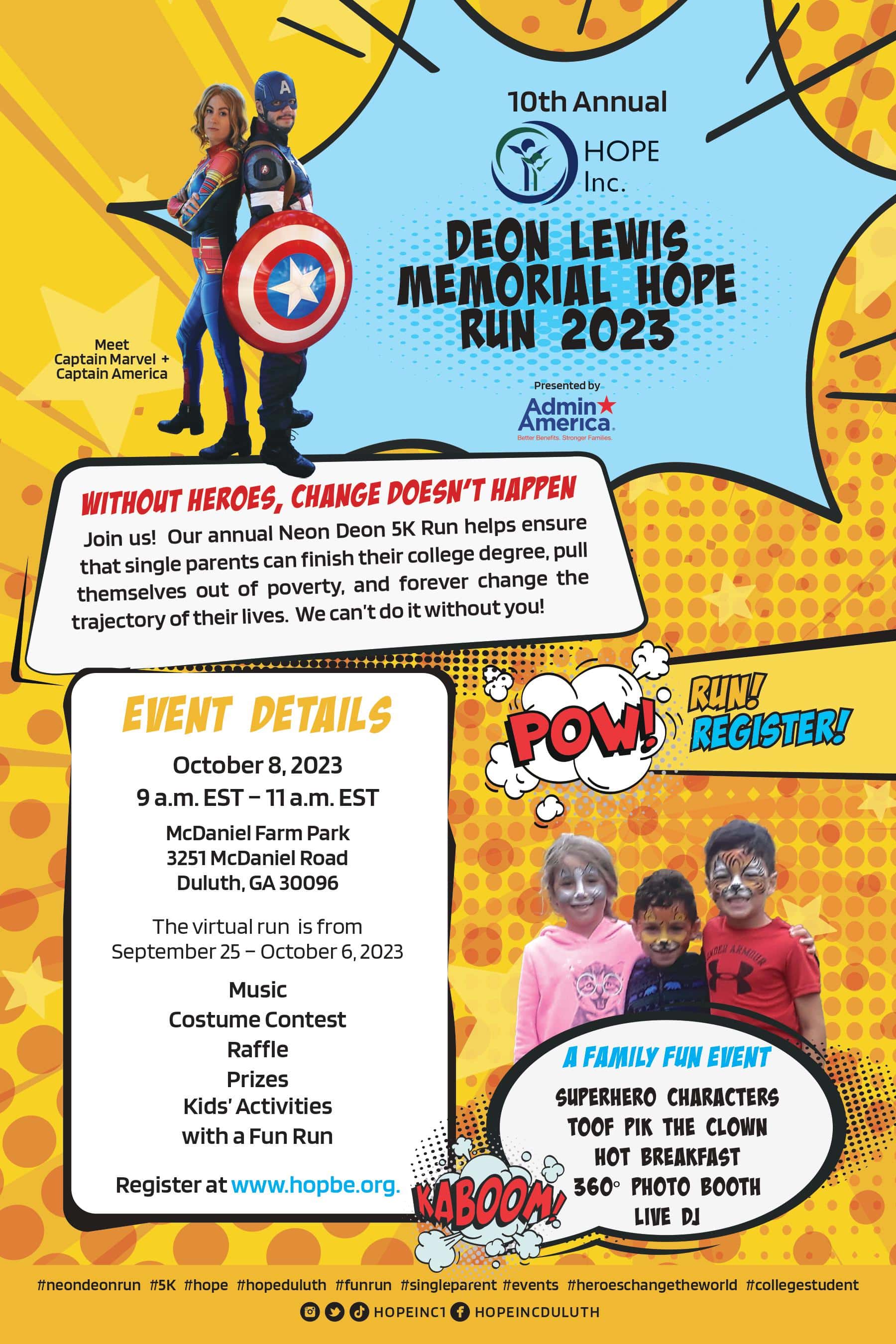 Join the Ultimate 5K Experience: Empower & Run with Us!
Prepare to put on your running shoes and be part of the 9th Annual Superhero Hybrid 5K Run/Walk, hosted by H.O.P.E, Inc. and presented by Admin America!
Date: October 8, 2023
Time: 9am-11am
Location: McDanielle Farm Park, Pavilion Side, 3251 McDaniel Road Duluth, GA 30096
Unite for a Greater Cause!
Are you ready to make a positive impact? Our mission is crystal clear: Support low-income single parents in their journey towards college graduation. And guess what? You can be the HERO they need!
What's in Store?
Unleash Your Inner Superhero: Don your capes, masks, and costumes – it's time to flaunt your super style! Join our thrilling costume contest for a chance to win exciting prizes.
Family Fun Extravaganza: Bring the entire family for a day of joy! Enjoy the beats spun by our DJ, be entertained by ToofPik the clown, and take part in various fun activities suitable for all ages.
Fuel Up for Goodness: Post-race, recharge with a scrumptious hot breakfast, because heroes require their sustenance!
Picture Perfect Moments: Capture memories with our superhero characters and share your joy on social media. Help spread the word about our mission and inspire others to participate!
Be a Part of Something Bigger!
Our goal is to grow to 200 runners this year, and your participation is crucial. By taking part, you're not merely running or walking – you're empowering single parents to achieve their dreams and forge a brighter future for their families.
Register Now & Make an Impact!
Visit Our Registration Website here to secure your spot as a hero in the making. Early bird discounts are available – seize the opportunity to save while supporting a great cause!
ENTRY FEE: $25.00 per runner if registered by September 1st. $30.00 if registered after September 1st and $35 on race day.
T-SHIRTS: Colorful, high quality short-sleeve cotton t-shirts supplied to all runners while supplies last. Only PRE- REGISTERED participants will be guaranteed a t-shirt on race day.
AWARDS: Overall male and female, Masters male and female, top 3 finishers in 14 age groups (10 & Under to 70 & Over in five-year increments). Medals and face painting to all Fun Run participants.
Those participating in the virtual event will have between September 25th and October 6th to submit their 5K results. Details on how to submit virtual race times will be provided closer to race time.
Learn More about H.O.P.E, Inc.
Explore our Website to uncover our 13-year legacy of transforming lives. Let's make this 5K our most successful event yet!
Together, let's stride, laugh, and empower – all while making a tangible difference in the lives of single parents. We look forward to seeing you at the Superhero 5K Run/Walk, where every step matters!
Proceeds from this event will benefit H.O.P.E, Inc. (Helping Other People be Empowered) which is a tax-exempt 501(c)3 nonprofit organization serving single parents and their families working to obtain a college degree and break the cycle of poverty.
RACE COORDINATOR: Gary Jenkins (404)313-7710, garry@georgiarunner.com.