The cranes, construction vehicles and orange barrels are visual reminders of the big things happening at the Gas South District, formerly Infinite Energy Center, in Duluth. The area, which currently includes a 13,000-seat arena, 708-seat theater and a convention center, is expanding to double the size of the convention center, update the site's look and add new parking decks and a hotel.
"We've been successful with our current size, but always wanted to move up a notch," said Stan Hall, Chief Executive Officer of the Gwinnett Convention and Visitors Bureau, which owns and operates the district. "We're always trying to do things that broaden our reach."
The new convention center will be the second largest in Georgia, after the World Congress Center in downtown Atlanta. With the addition of the new hotel, which will have restaurants as well as internal direct access to the convention center, Hall said the district will become a premier location for large events.
"We have many Fortune 500 companies in the area that we probably haven't been big enough to serve for the national conventions and events that we expect that we'll have an impact on bringing those events to our convention center after its expansion," Hall said.
Bringing more business to the Gas South District will have a direct positive impact on local businesses as well.
"We are a key player in what the economic picture looks like in this area based on the business we've always done but also now we're going to be able to bring even more significant business to the area," Hall said. "For each convention we bring here, that has a direct impact on the hotel industry, our entertainment industry, our restaurants – all the businesses in our area that visitors are going to want to use."
And many businesses, including the Gas South District, could use that boon as sales have slumped over the last two years. Though the district never stopped hosting events in 2020, there was a significant slow down. On the upside, that meant construction could move forward with minimal impact on events.
"I think if we had our choice, we would have preferred 100% business and let the construction happen as it may, but it's working out well and we think we might actually come in a little ahead of time on our construction schedule," Hall said.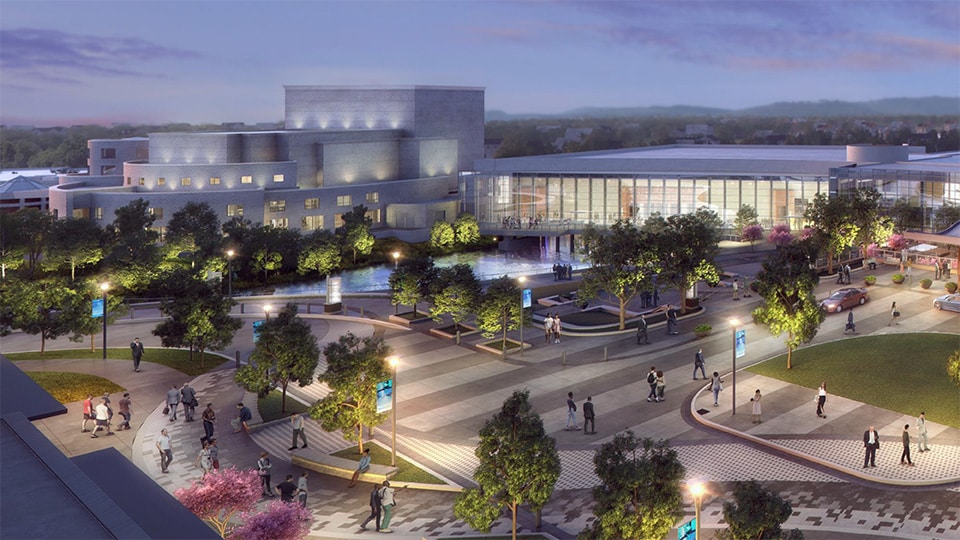 As the pace of event bookings has picked up this year, Hall said that the health and safety of visitors is at the top of the Gwinnett Convention and Visitors Bureau's priorities. The entire Gas South District campus is a GBAC STAR facility, meaning it is certified in outbreak prevention, response, and recovery by the Global Biorisk Advisory Council. Many facilities around the world now have this designation, but Gas South Arena was the first arena in Georgia to obtain the accreditation.
The process was long and costly, involving upgrades to the buildings' air filtration, as well as the addition of ultraviolet cleaning systems, sanitation systems and more, but Hall said it is worth it if it makes patrons feel safer coming to events.
"We believe in the early portions of the return to business over the summer, that certification and people understanding how much we did to prepare for a safe and healthy building has been beneficial for us and will continue to be," he said.
It seems to be working. Tickets for several recent shows have sold out quickly. However, Hall said his staff is ready to pivot again, should they need to.
"When you're depending on large groups of people to come together as the main ingredient of the success of your business, we change our plans every day it seems like," he said. "Our staff is the greatest asset we have. They have been wonderful in reacting to this and preparing for the next step."
Having Gas South involved in the district is another opportunity that Hall is looking forward to. Gas South inherited the naming rights for the district after its acquisition of Infinite Energy at the end of 2020. Though no onsite activity is required by owning the naming rights, Hall said that because Gas South is already active in the Gwinnett County community through charitable endeavors as well as within the Gwinnett Chamber, he wouldn't be surprised to see the company use the district's campus to their benefit. Especially since Gas South is headquartered in Georgia, unlike Florida-based Infinite Energy.
"We think that Gas South will be more heavily involved in having a presence on our campus than Infinite Energy was able to do just based on geography," he said. "We expect that they will be very active on our campus. From an entertainment opportunity for them to bring clients to our events to interacting with other businesses and utility users."
Construction at the Gas South District is scheduled to wrap up by the end of 2022. While events will continue throughout construction, Hall is excited about the prospects a larger convention center, connected hotel, increased parking and new look will bring to the district and the surrounding areas.
"As we continue to grow, that just gives us the opportunity for a greater impact, not just economically but in every aspect of the word 'impact'. We think that we're going to be bringing large scale events through our campus," he said. "To me it's a very exciting time just speaking about how large our footprint is going to become."
---
Getting Around Gets Easier with New Gas South District Site Design
Once construction is finished at Gas South, the new and expanded buildings will sit on a newly
designed site with multi-use streets, plazas, walkways and innovative wayfinding to visually
guide visitors directly to their destinations.
Lose Design, a landscape architecture, engineering and architecture firm, is in charge of the
site design for Gas South, including everything within the district that is public facing and that isn't inside four walls.
According to Lose Chief Commercial Officer Whit Alexander, the focus of their design has been
visitor experience, which is a common approach for the company.
"As a multidisciplinary firm where landscape architecture is often the lead on our projects, our
projects are designed first from the perspective of the people who will use the project in the end
and supported by sound engineering principles, rather than the other way around," Alexander said.
"We think about what the experience is going to be for the people who come here. What makes
this place special? What enhances the site for people who come here? What are visitors
wanting to see?"
At the Gas South District, Alexander, who also serves as principal-in-charge of the design team,
said one of their main considerations for the site was ease of navigation for visitors.
"Knowing that visitors hail from many other countries, who might still not find their language on the site's multilingual signage, we looked at how we could connect all the main facilities on the campus with one ribbon paving pattern, that goes all the way from the Arena down to Hudgens. If you're on that ribbon, that main pedestrian path, you'll pass all the main facilities. We organized the site along that one main spine."
In addition to using paving patterns, the Lose team also created a series of dynamic visual cues
using movement and colored LED lights to guide visitors along the path from parking to the
day's event venue without having to solely rely on signs.
Alexander said that working with all the individual design teams involved in the construction at
the Gas South District has enabled Lose to assist in maintaining the overall project goals.
"We've all worked together collaboratively to merge everybody's ideas into a unified vision," he
said. "Everybody has been open to new ideas, making changes when changes need to be
made. A big project like this has to evolve as it goes."